To start, I want to let everyone know that I will not be taking any new custom orders until at least March1st. I am busy playing catch-up on current orders as well as working on some SUPER FUN NEW pieces for the upcoming shows I will be at!!
Leon & Lulu
Artists Market
Clawson, MI
Feb. 28 & March 2
Blue House Ann Arbor
Handmade @ BlueHouse
Ann Arbor, MI
March 20th
*I will also have art in the store full-time..it opens March 1st!*
When I say, SUPER FUN NEW pieces....I mean it! I will be starting a 'gallery' line (I guess you could call it). These paintings will not just be for kids rooms, but pieces you will hopefully love for your home. They will be larger, gallery wrapped original canvases and I will be using much more of the mixed media, collage style. I'M PUMPED!
Now, on to a much more important topic,
a getaway weekend
!! Yes, my DH and I will be going on a weekend retreat for Valentine's Day. Alright..I won't kid myself and say that it's for Valentine's Day..it's really because he is a teacher and this is 'mid-winter break', so it's the only time he gets the long weekend. lol. This is an annual outing for the Davison Basketball coaches and their significant others. There are about 7 other couples, all wonderful people and great friends...I am SOOO excited. Here is a pic of where we are going (picture snow on ground).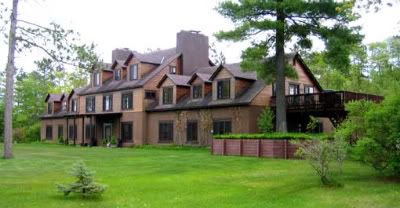 NORTHERN SHORE LODGE
Dave and I long are overdue on 'couple' time, and it's probably not because of our crazy, awesome daughters...but more because of my crazy, awesome, obsession with art, creating, and my business. So, for one weekend, I will PUT DOWN THE BRUSHES and put in some serious fun with wonderful friends and my super handsome, funny, caring, best friend...Dave :) I love you babe, even more than art...Happy Valentine's Day!! (he better still get me a card... ) xoxoxo
Hope you take some time to love on the one's you love this weekend.
xox ~ Jenni