I have recently finished a few custom orders for customers who are giving these as gifts to friends with new babies (or expecting). As you may know, I specialize in custom creations, and do love them because it means not doing the same thing all the time. I love creating new things and I also really love when I get to have creative freedom....and so far, so good. I have never had a customer not love what I did for them. (Wow..i better knock on wood right now..)
So, the first pic is of wall letters in a vintage airplane theme. I only received an internet picture to go from with these, so I was a little nervous to make sure the colors and everything were right. Plus, I have never done this sort of theme before. The great news is that the recipient received them, and they matched wonderfully and she loved them. Yay!
This next custom creation is a 12x12 canvas and wall letters to match a pink and brown ladybug themed room (from JC Penney). They are being given as a gift at a baby shower and haven't actually been given yet, so I'm anxious to see what the mommy to be thinks :)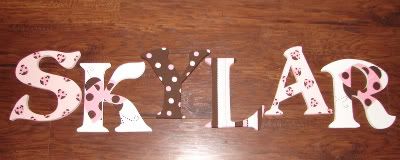 I really loved creating this canvas. I was inspired by a piece of scrapbook paper that I saw. I use scrapbook papers as inspiration a lot...
Well, that's all for now! I really need to get to bed...
The husband is away at a bachelor party (darn him!) and I'm hoping both girls don't get up in the middle of the night. not.fun.at.all
*BTW...these pics are updated on my website under handpainted letters and custom canvas.
~Jenni