I will start with the creations I have been working on these past couple weeks. First, a custom canvas I did for a mom of 3 little girls. This is for their new playroom...what fun! I hope it looks great in there!
Next is the "Sisters Canvas" but I changed the clothing to pink and brown for the customer. This is a gift for twin girls. The gifter sent the giftee (are those real words?) a picture of the canvas and she cried. I'm going to make myself feel good and believe it was because she loved the canvas so much. I mean...it couldn't have anything to do with hormones...
Next - letters...weird. I know. hehe. This pic is not the best, but the name was so long I couldn't get a great pic of them. It is Ann-Claire and made to match the hip hop circle bedding at Babies R' Us. Hope she loves them!
Now for the exciting first day of Preschool for Grace! Well....we went to "check out" the school and sign her up last Friday. She loved it! She skipped up to the door and looked all around the room. Overall, I was thinking Monday was going to be very smooth. not. so. much. I should know better than to think that anything with miss Grace is smooth. The problem is that she is NOT a morning person. I have to wake her up every morning (before all you moms go gettting jealous on me...she is up for a good 2 hours in the middle of every night). So, when I woke her up..she immediately starting whining and crying that she didn't want to go to school. Once I got her up, she didn't want to brush her teeth (I forced it..it was not pretty), she refused to let me brush her hair (see pic for evidence), and of course her pants were too tight so we had to change them. wow! needless to say, we barely made it there and then she was pretty good. She was being nice and walked in okay. She wanted me to stay for "three minutes" (who knows?). So, I did..then I gave her kiss and hug and just walked out...it was so hard, but I had to or else she was going to ask me to stay for three more minutes until it was the end of the day. She wimpered a bit, but then turns out she had a great day! She goes again tomorrow morning, and the night before the first morning is replaying itself tonight..yikes. hope it turns out better than Monday morning!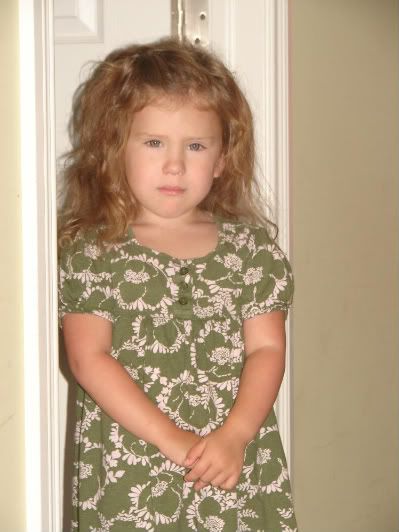 She was not happy that I was taking picture of her. lol Too bad..I'm the mommy and even if you are a stinker, I still have to take pictures of my little girl going off to preschool and growing up way too fast! I love you Gracie :)