Our baby is getting so big! We have officially transformed her room into a big girl room. I would have loved to do more to it already, and changed a lot more, but It was already purple and I had painted her letters to match her crib and I just didn't really want to change it. So, instead, I just found a comforter to go with it for now and I'll decide what else to change later. I'm a big fan of using what you have so that it costs less and that way if you change your mind later, you didn't spend a bunch of money the first time.
So, although there is a lot more to do and lots more fun art for me to create for her walls..I think it is fun and bright for now. And, we know I love bright :)
Check out how I caught Lydia in action of throwing the ball!
How cute is the butterfly/fairy tent that Aunt Aleece got them?!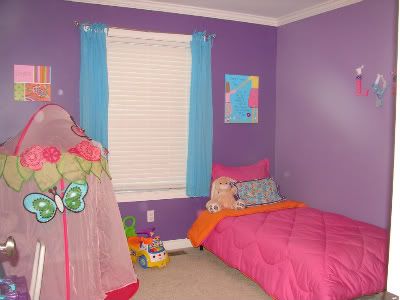 I'll post more as I create it. But, I do go back to work tomorrow after over a week off...