Recently, a wonderful customer purchased a Toy Storage chest from me on Etsy. I happened to find a much larger unfinished toy chest from an online vendor and sent her a message to let her know that there was an option for a larger version. She responded with a resounding YES because she said 'Toys R' Us was exploding in her house'..lol (Obviously I stole that for my title here, hey).
She gave me all creative freedom (she did tell me colors of the room of course) and this is what I came up with! It is being shipped today and I am excited for her little one to get it!
You will notice it has a chalkboard top. Kids love it!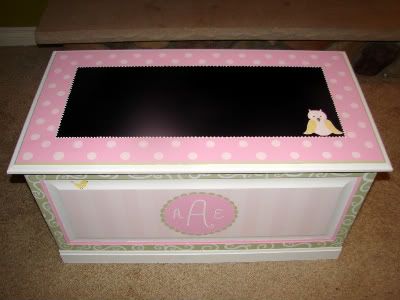 I loved Mr. Owl, and so did Grace..she kept commenting on it. haha
For anyone interested this toy chest is 34 3/4"W x 18 1/2"D x 18 1/2"H. It is made of solid alder and birch hardwoods. It is a great piece and will fit a great amount of toys, blankets, etc.
I am almost finished with a fabulous Table/Chair set as well and will be posting pics of that in a few days!
Hope you have a smiley day :)
Also, Toys R' Us totally explodes in our house on a daily basis and I'm a little nervous for Santa to come and dump another load.
~Jenni