Woo hoo!! I finally was able to find time to create this piece that was sitting in my head for quite a while waiting to find a home on canvas :)
My sister-in-law, Jody, was due to have baby Ella on August 20th and I ended up creating this to go with her room because it happened to be a perfect fit since her room is these colors and has birdies in it.
I had it all set and ready to give to her at her baby shower that was to take place at my house this past saturday, July 18th. However, much to our SURPRISE!!, baby Ella made her debut into this world 5 weeks early on Friday evening, the 17th. WOW!
Baby Ella James was only 4lbs. 11oz and 17.5 in. long. She is doing so well..breathing on her own and all! I hope to post pics in next few weeks. How exciting to have 2 nieces in 7 weeks!!!
While this canvas is already spoken for, I will be listing it on my
Etsy site
as well as my
website
as a custom design that will always be available. Of course, I can create it in any color. The size shown is 16x20 and is $75, 11x14 would be $45..and of course it can be done bigger as well. Check my custom prices on my website or
email me
.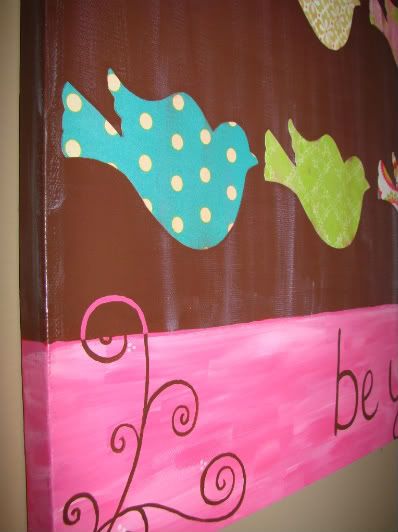 Hopefully you notice that is says 'Be You' because there is only one bird that looks different and is going the other way :) I think it's a great reminder in life.
Hope you love it baby Ella! We love you little peanut :) I hope you all love the canvas as well.