I wish I had better pics of these, but I don't want to wait any longer to post pics because I have a NEW, super cute (imo) canvas and a NEW, super cute (again imo) 'letter' to show you as well!
Here are some custom canvases I created on 'The Life of a Frog'! It starts with the eggs (Not all frog eggs have to grow in the water. These are Red-eyed tree frog eggs to be exact. I GOOGLED it. hello! lol), which transform into tadpoles, and alas..you have Mr. Frog :)
I can't wait to visit baby Gus's room this weekend to see these canvases on the wall, and to see how cute they look with the
turtle and snail canvases
I painted for him a while back.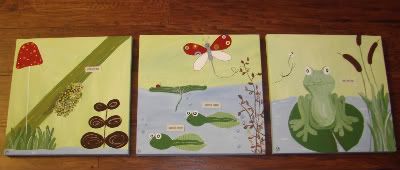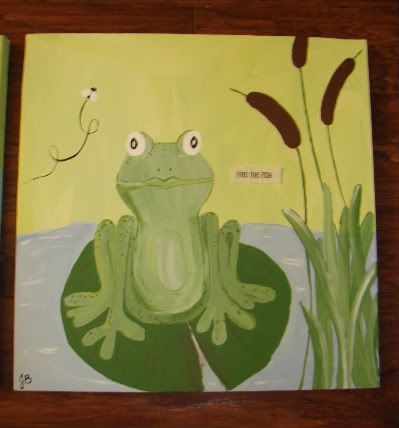 HAPPY FRIDAY!!! Also, GO GREEN! (Going tailgating at the MSU/UM game tomorrow) Rain or shine! I'm hoping for shine :)