Ever wonder what my 'art studio' looks like?!?! Well....TADA!!! And this, ladies and gentleman, is what you call a well-used kitchen ;) Who needs it for cooking? psshhhh...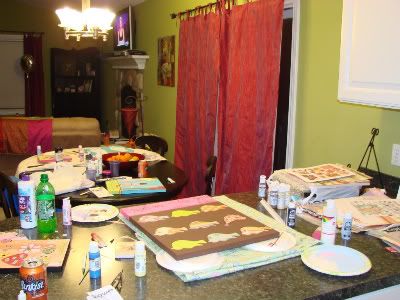 Take note of the Mt. Dew and 2 Sunkist cans. No worries..this was not all in one night. I totally left this mess there for at least three. I'm a busy lady!
Is it bad that my girls think that all mom's paint? lol They seriously do. They think that's what you do when you are an adult and a mommy. Oh dear...
Also to note, there is an 'art room' in our unfinished basement that was drywalled for me for as an xmas present so that I could finish it the way I want. What do you think that looks like right now? Yeah...you're right.
xoxo ~Jenni