So, we went on our first "Boat Trip" with 10 other couples. Most of them have been going for the last 4 years (but we have just been busy having babies!). Anyway, it was the best vacation ever!! There is nothing more relaxing than being on a house boat for 3 days and 3 nights and doing nothing but floating in a raft all day (with a floating cooler.duh), hanging in the hot tub on the boat (yeah..i said hot tub. on a boat!), and playing games with friends. While floating in the raft on the first day I remember saying to my friend next to me "So, what do you want to do tomorrow? NOTHING! fabulous!"
Here is a group pic and one of my hubby and I. btw...our 6 yr. wedding anniversary is tomorrow! yay for us! No presents...we are broke after the boat trip. lol We are going to the Tigers game because of free tickets we got from mom's boyfriend. thanks! and a BIG thank you to my in-laws for watching the girls while we were on the trip. They are amazing!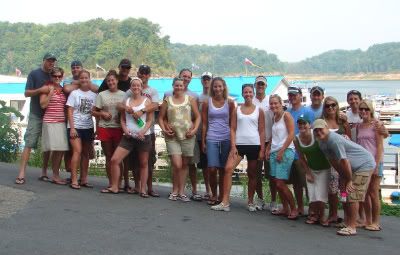 I'm a little incognito in the hat (go State!).