Hehe....well, that little convo. was with my friend, Elizabeth who was so nice to let me use her art easel that her dad gave her. yay! I can't wait to use it...when I get a chance to paint something other than wall letters...
Don't get me wrong, LOVE painting letters..they are fun, always different, and make great gifts. I need to take a picture of me painting them. every .night...on my floor, on my counter, on my table. All over my house! Then I have to put them all up high every night, or in Lydia's "room" and close the door, because let's face it..Lydia does not use her room. She sleeps with me, like, umm..every night. Please no parenting lectures. I know. I know.
Oh yeah, the reason I put them up high or in a closed room is so that Lydia doesn't think they are toys and start throwing them around. or use them as "coloring books". ahh! happened once. had to start over. nice.
So, here is one set I just got done for a soon to be born, Alexandria "Alex". It was made to match the
Nautica Kids Lola
set from Babies R' Us. Hope mom loves them!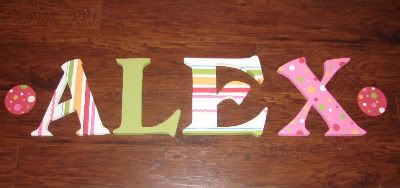 This set was created for a girl's room, and she obviously loves pink. who doesn't?!! Mom wanted to break up the pink in the room so we created these pink and brown letters to help her with just that! They will be hung with silky brown ribbon (yet to be added) and she also bought a matching picture frame, which I am painting tonight..will post soon.
Thank you for the wonderful orders of wall letters..I really do love creating them. But next, guess what?!! I get to use the easel because I have 2 canvases to paint in the next week..oh yeah..and more wall letters. hehe