So, we attended
miss Jenna's
1st birthday party this past weekend, and our friends,
The O'Mara's
were there as well. My Grace decided that Blake (The O'Mara's oldest boy) was more than just a friend....he's her "boyfriend" as she proclaimed to me on the way home. Here is our conversation on the way home from the party:
G: "Mommy, Blake is my boyfriend" (with a HUGE smile)
M: "Oh really, and what does that mean?"
G: "It means...it means, I love him"
M: "Oh, okay." (trying to hold back my laughter and my OMGMY3YROLDKNOWSWAYTOOMUCH face)
G: "Yeah, and I'm going to his house next week to visit him"
G: "He's my boyfriend. my boyfriend. my boyfriend.".....over and over again as she looks out the window smiling.
M: what the? is she 15!??
See her little crush smile in this pic taken at the party: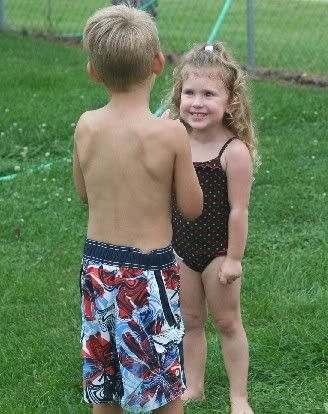 So, needless to say, daddy Beamer isn't that excited about it and since he was home with her the next day, I'm sure he had a little talk with her because when I returned home she told me "Mommy, we are just friends. He is definitely NOT my boyfriend"
lol lol lol oh good lord...she is 15.
Here is a pic of all of the kids. They are so cute! I can't wait to hopefully re-inact this photo op in 5 and 10 years from now.
Now...onto my baby baby who is growing so big!! She is 16 months already and almost 17! Here is a pic of her on daddy's lap (sorry about that bad pic daddy), but I just had to show it because you can see how long and big she is getting. And how much of a twin she is to him!
That's all for now folks!
For the business side of things, TinkerDot Designs is busy and great...handpainted letters are hugely popular right now and seem to be the only thing I have been painting lately. I will post pics as soon as I get all of those orders done. I am also working another custom canvas that I am excited about. It's about sisters..yay!
Peach out :) (yes..i said peach)